Second Chance Auto Financing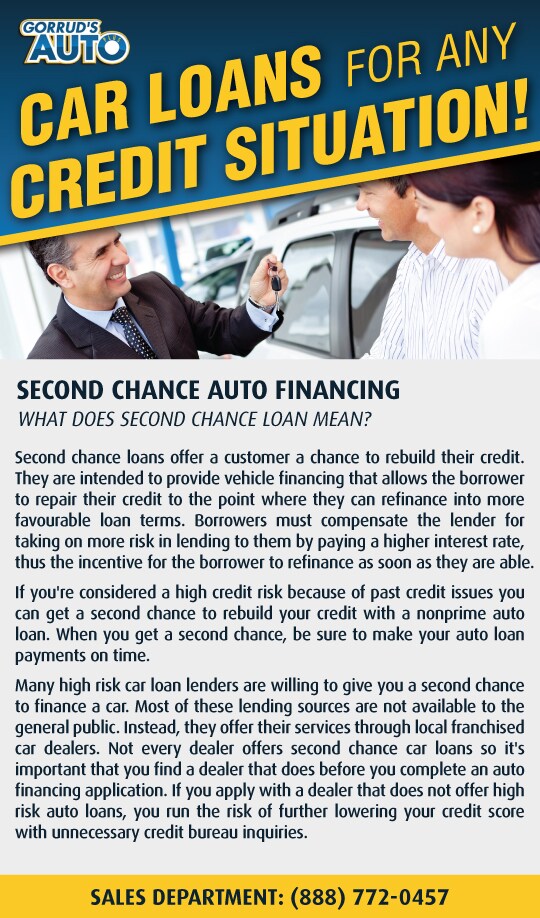 Frequently Asked Questions
How much will I get pre-approved for?
The loan amount that you will get pre-approved for is based on a number of factors. Once again the most important factor is your credit profile. The best plan of action is to make an appointment with one of our Financial Services Managers; Kevin Ryan or Mary Lynn Feenan. With many years of experience and their professional help they will guide you and answer any questions you may have. We as a team at Gorruds are committed to helping all of our customers with complete dignity and respect.
What are the interest rates?
A very good question for which there is not a direct answer.  Rates are based on your credit profile and the equity position of the loan. We will get you the best rate based on your credit profile.  The higher your credit rating the lower your rates will be.  Also, the model year of the vehicle plays an important role. The older the car, the higher the rate.
Will inquiries affect my credit rating?
If you're shopping around for an auto loan or more credit, you should know that when creditors check your credit, it places an inquiry on your credit report. Inquiries can add up, which is often interpreted negatively by creditors. For this reason, too many inquiries can actually make getting an auto loan more difficult if you become labelled as a credit seeker.
How much money down will I need?
The down payment amount that you will need is on a case by case basis. Inevitably, the most important factor will be your credit profile; however, we have on-site financial services representatives that can work with you and the major banks to determine the best down payment for your situation.
Can I use my trade as money down?
Yes!  A free and clear trade is viewed the same as cash. If you have a lien on your trade we can consolidate this into your new loan.
What are the monthly payments?
The monthly payment is a combination of principal and interest calculated over the term you choose to finance your vehicle. We will work with you to make sure your monthly payment fits comfortably into your budget. Payments are also available semi-monthly, bi- weekly and weekly.
Will Co-signers help me get pre-approved?
A Co-signer may be considered for a Buyer who does not comply with all the credit requirements.  The income of the Buyer, however, must meet all the income and budget guidelines without reliance upon the income of the co-signer.
I've had a repossession less than a year ago.  Can I still pre-qualify?
If the repossession was not included in a bankruptcy and there is still a balance on the account, you can still pre- qualify.  Greater money down requirements will apply and vehicle selection will be limited to newer cars that are still under factory warranty.
I've had a bankruptcy.  Can I get pre-approved?
Yes!  A bankruptcy is a temporary measure to help you repair past credit problems.
I'm currently in a  Bankruptcy.  Can I pre qualify?
Yes.  However, it may take longer to process your loan.  You have to obtain an "Authorization to Incur Debt" from the trustee of your bankruptcy. Consult your bankruptcy attorney.
I've never had credit before. How can I get pre-approved?
Complete an online application and we will respond in a timely manner with what requirements are needed from a financial institution.